Over the past several months, I've had a chance to meet almost every single user of our product.  These are dedicated, hardworking men and women to whom we feel honored to serve through technology.  Anvl's software elevates their voice in a space that is critical….safety! Through this work, I have learned so much about the frontline workforce and how to optimally introduce technology to a multi-generational group.
When working with Baby Boomers and Generation Y workforces, along comes a vast range of exposure to and interest in technology. I've witnessed a spectrum of experiences – some with high degrees of sophistication in device usage in their personal lives to those who prefer a flip-phone or do not consider email a primary form of communication.   With an emphasis on the worker – introducing a tool that is designed for them, to share their words of expertise across their team, their organization, and to improve their daily operations – we peak their interest in this thing called, Anvl.
To better understand the workforce of each customer, we consider these interests and exposure aspects, as well as learning styles and openness to change.  We then plot ideal experiences on a matrix to better define learning paths that maximize adoption. What we've found is that sending our team to the frontline with our users allows for the best onboarding experience. Even if a workgroup plots low on tech savviness, we can turn them into productive, high-adoption users by spending 20 minutes of personalized time with them.  Further, we help transition these disciplined workforces from skeptics to advocates of digital safety solutions (and leave them asking for more!). 
Multi-Generational Adoption Quadrant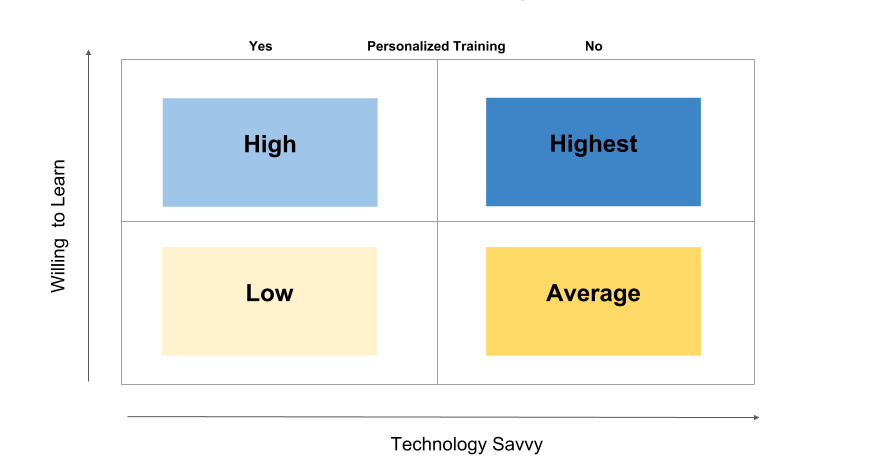 With safety being our highest priority, we believe that this approach to learning personalization is a worthwhile investment.  Users feeling confident and comfortable in our software and our team drives strong, ongoing engagement, and unlocks a host of valuable information to the leaders of an organization.  Whether the worker is a 30 year veteran in their craft or an apprentice, they have incredible insights only gained by listening at the point where work occurs. What if leaders could take that further by responding to and acting upon that information – individually, locally, globally? Do you think it builds trust? Loyalty? A more committed workforce to safer practices?
Anvl's learned a lot from our users since our first customers came online. Although our company has over 100 years of combined tech experience, we lacked the perspective of our frontline users. Their multigenerational workforce viewpoints have pushed our product to be easier to use, more cleanly designed, and in turn has created a better overall experience, simply by listening.  We see firsthand the goodness that is gained through trust, loyalty, and commitment.

We're excited to continue building and growing our product with the help of the frontline worker and we would love to hear from you, too!
SaaS Operators: How have you implemented customer perspective into your software?
You can contact me anytime at allison@anvl.com.
Allison Bantz leverages 15+ years of client success expertise to help make enterprise clients successful.   Prior to joining Anvl, Allison worked as the Sr. Director of Customer Success at Salesforce, building programs that helped customers achieve business value at scale.  As Anvl's Vice President of Services, Allison is responsible for providing Fortune 500-quality service, support and strategic vision to all of Anvl's customers.