Connected Worker Software 
How to unlock critical data in 7 simple steps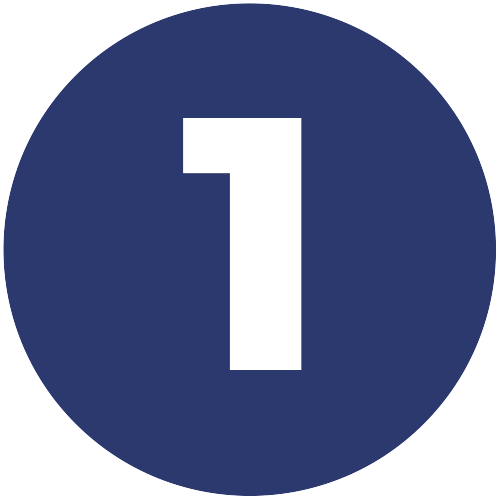 Identify Where Data Capture Creates Opportunity
The best opportunities for improvement are often where you are capturing data manually in forms for critical quality, safety, and operational processes. These opportunities may show up as "pencil whipping," delays in receiving the data, or incomplete or inaccurate information.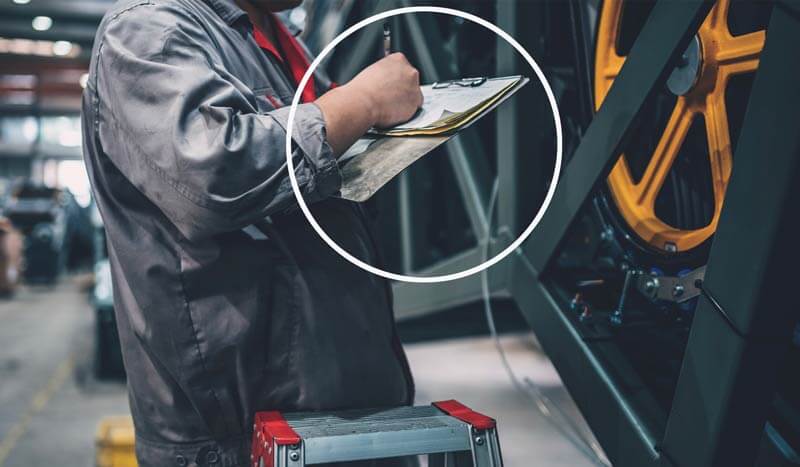 Signs that your data capture process is failing includes:
Time consuming to complete

Cumbersome and unnecessarily complex

Confusing due to the process and method of capturing data

Static and rarely changed because of the overhead to retrain and roll-out the changes

Unengaging or has limited tool functionality

Form based and lacking rich, fast data capture capabilities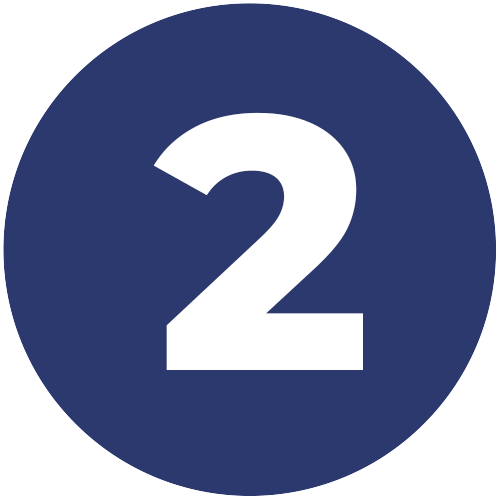 Solution Assessment with Anvl
Our light-weight solution assessment provides clarity on a solution fit with Anvl.
We collaborate with you to quickly assess your needs in a short workshop that takes little of your effort or time.
You will receive our recommendations with tangible deliverables which includes a Solution Brief that outlines everything from your business drivers to budgetary guidance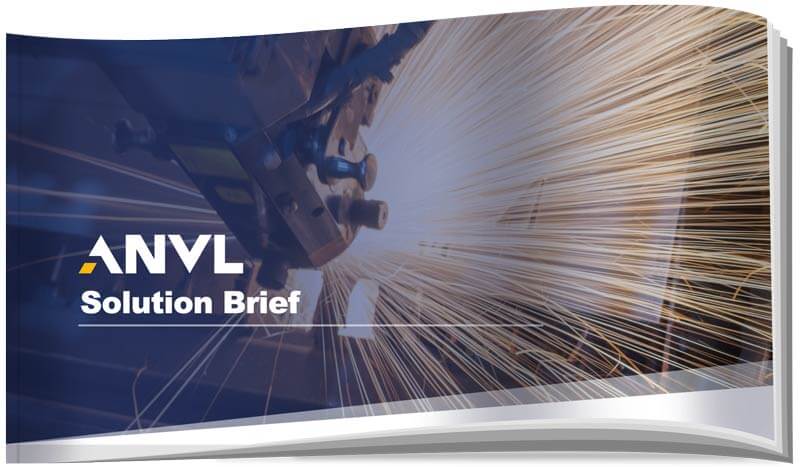 Anvl's Solution Brief is a key deliverable of the solution assessment process which includes:
Your current state and business drivers for change

Scope and objectives for one or more improvement projects

Prioritized improvement plans including success criteria and key assumptions

Anvl's proposed solution with an illustrative demo of your new solution(s)

Solution roll-out timeline which includes implementation, training support and change management
The Solution Brief is a valuable tool to support your improvement planning process. The brief is an ideal document to share internally to support your decision process.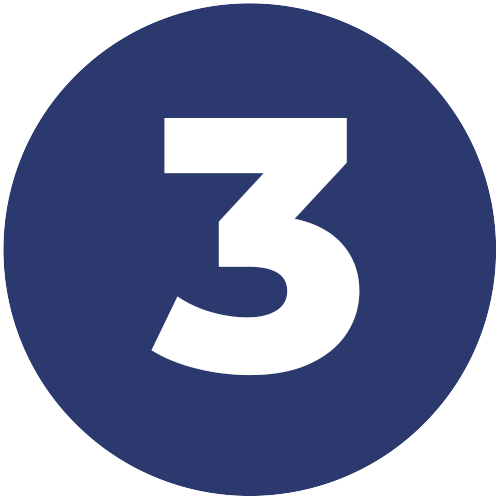 Identify an Initial Project
Ideal initial project candidates for Anvl are typically used frequently, used by a lot of people and are relatively short. This allows for fast roll-out and while we may start with a handful of initial users, we can quickly roll-out to a large number of users for vetting and feedback and iterative changes.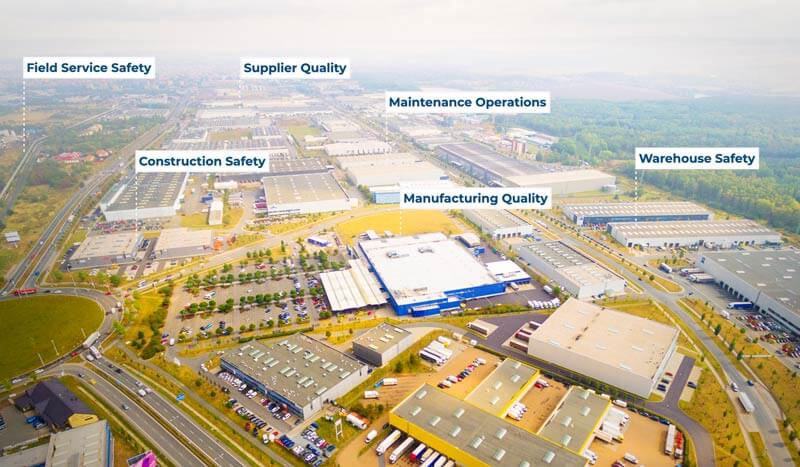 Candidates for improvement projects in Anvl can span a broad set of processes from quality, safety and operations - examples include:
Layered Process Quality Audit

Behavior Based Safety Program – Near Miss Report and Safety Observation

Supplier Quality Audit

Risk and Hazard Assessments

Pre-Work Assessments

Quality or Safety Inspections

In-process Quality Inspection

Safe Work Permits 

Guided Operations Procedures

Safe Start Procedures

Rejected Parts Rework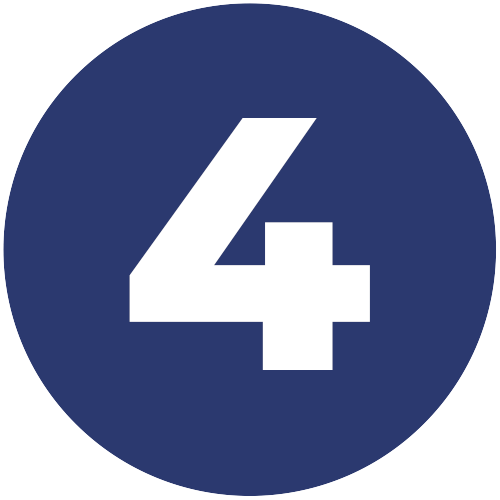 Reimagine Your Processes with Anvl
Our Customer Service team collaborates with you to reimagine each of your processes into an effective and efficient dynamic workflow in Anvl. There is no coding, complicated configuration – our team does the work, you just tell us what you need.
There's no limit to the number or types of workflows that can be inegrated with the Anvl platform. Anvl workflows contain embedded logic and rules to guide and prompt users in-the-moment and trigger alerts, escalations and additional workflows as data is captured and evaluated.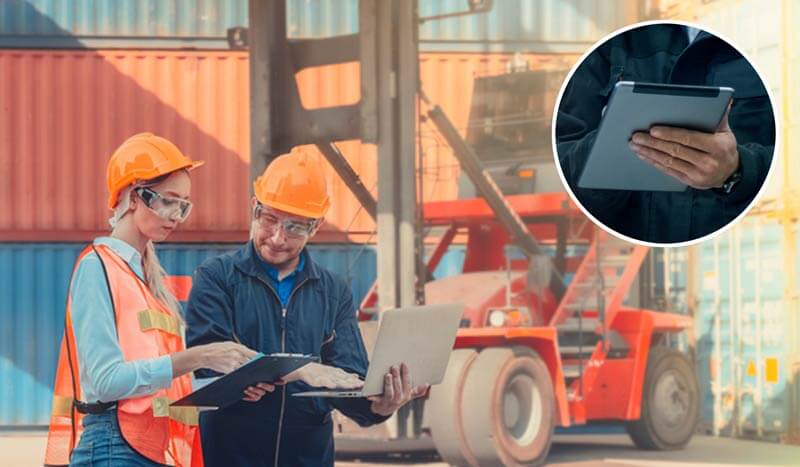 Workflows in Anvl are configured to suit your needs today, grow and improve as needed and include:
An easy to use mobile application with configurable graphical screens

Step-by-step instructions and pop-up definitions and terms

Triggered workflows streamline process steps and guide users through complex scenarios

Embedded workflow logic and rules for risk and issue management

Rich data elements including voice to text, photos with annotations, digital signatures and keep in progress status to save your place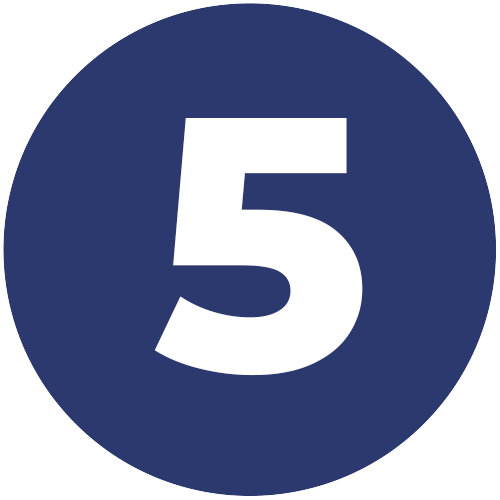 Train in an hour or less
Orientation in Anvl typically takes less than an hour and users begin using Anvl in effective and efficient ways immediately following a training class.
We offer train-the-trainer and recorded training as needed to support an initial and on-going roll-out plan.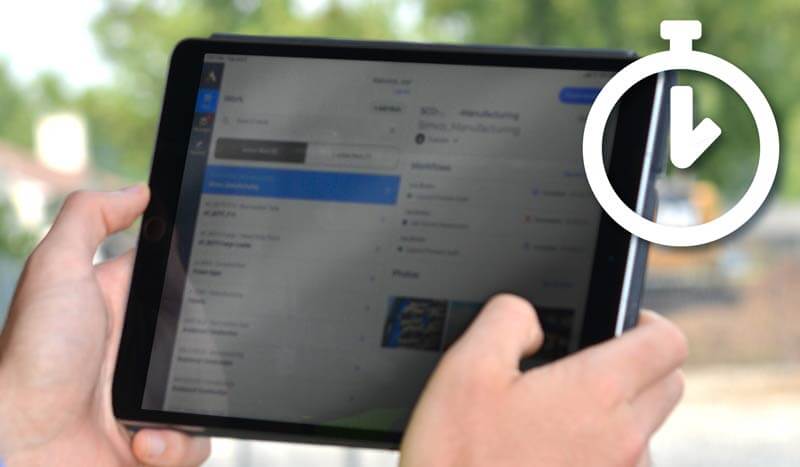 Adoption of Anvl occurs quickly and user engagement in Anvl averages over 90%+ because of:
Intuitive mobile application which requires only light orientation

Configurable graphical application screens for a tailored user experience 

Easy-to-use application interface designed for workers in tough, dynamic environments

Rich data collection features that provide high value for users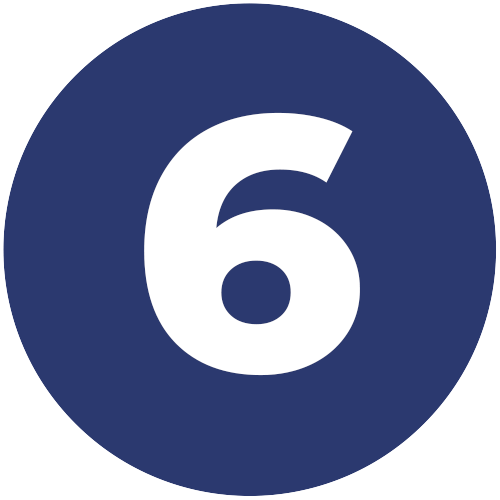 Begin unlocking critical data
Immediately after training, data insights will be available in a real-time dashboard and in a view that shows a live feed of workflows by status.
Drilling into the dashboard information for analysis is intuitive and quick filters make analysis and next step actions quick and easy by work, job, process type, person, dates and more.
Our Customer Service team can supplement our standard dashboard and reports with custom configured reports.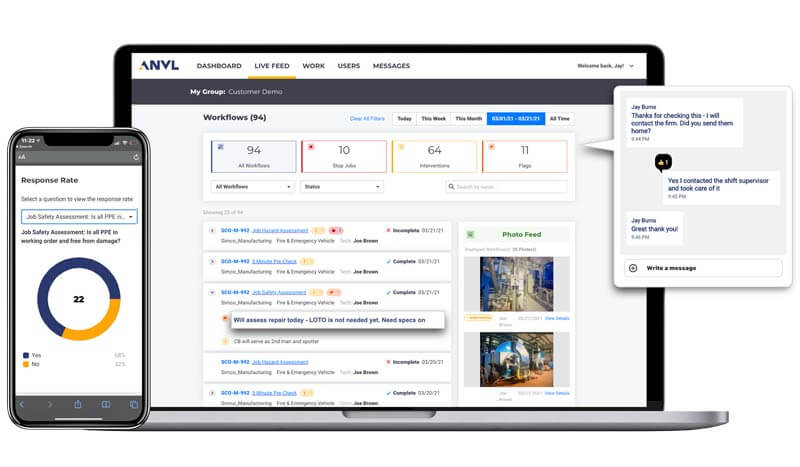 Data insights, analytics and reports are configurable and available for all levels of the organization including:
A real-time, live feed of workflows viewable by type, division, site, date, status and more

Summary dashboards with top issues, categorized by user responses rates and drill-down capabilities

Messaging in context to workflows with uploads including photos, videos, and documents.

Configurable alerts, notifications, escalations and daily usage compliance reports

Tailorable reports that deliver a wide range of data insights to any level in the organization directly to their email inbox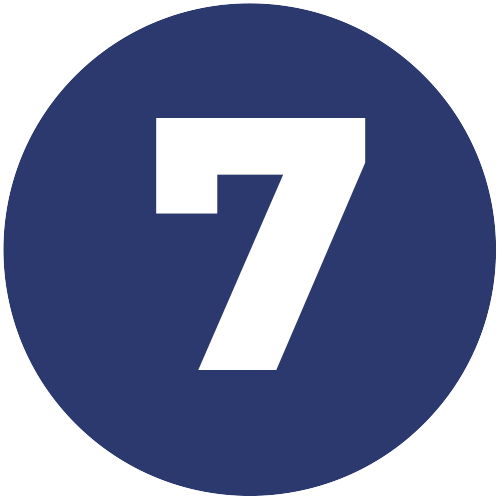 Data-driven Continuous Improvement
Our goal is to help you drive continuous improvements through both the use of Anvl's easy to use mobile application and by leveraging automated insights and reports for identifying on-going improvement opportunities.  We expect you will see this through:
Real-time data capture and guided workflow steps for users that remove guesswork. 
In-the-moment alerts, escalations, interventions and messaging.
Insights through dashboards and reports that surface trends, issues and improvement opportunities. "Anvl continues to meet and exceed my expectations by consistently engaging workers and providing actionable data to drive positive culture changes and improvements." 
 – Jenny Bush
   Vice President North America DBU, Cummins
Want to learn more about the app with over 90% worker engagement?

We would love to connect with you and show you why Anvl captures real-time data in real circumstances better than anyone else.
Latest Resources and News