Actionable Data
Anvl gives you the live data to see what's happening across your organization and engage when it matters most.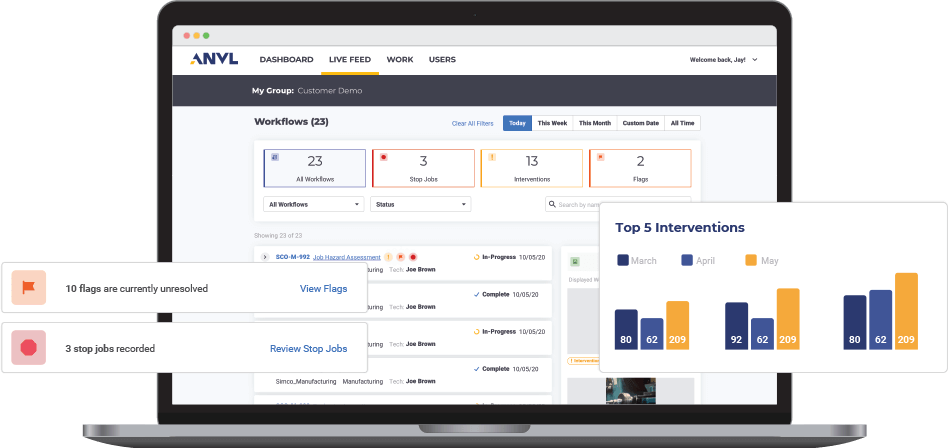 Gain in the moment access to worker responses to inspections, assessments, checklists, observations, audits, permits and procedures in a single, easy to use view.
Anvl gives you the live data to see what's happening across your organization and engage when it matters most. Engaging and listening to your employees builds trust and trust helps you drive cultural change.
Accurate data is critical to building trust and when you have timely access, data is infinitely more valuable. Anvl gives you access to a live feed of data from your frontline.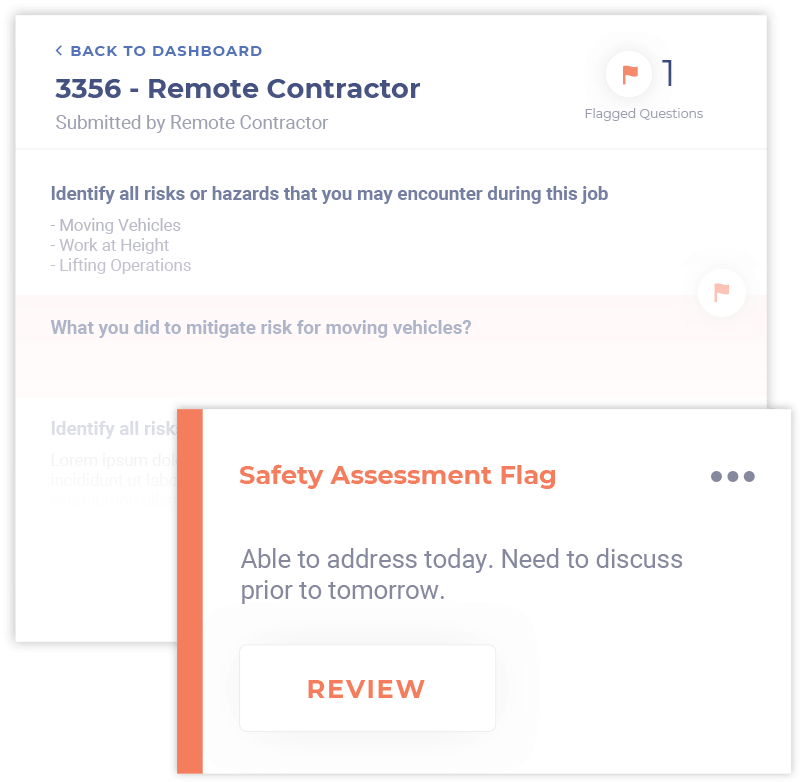 Intervene and Coach as Early as Possible
Don't wait until the next safety observation or audit to get insight into useful and timely information on what's going well and where your employees need to improve.
Supervisors, managers and leaders can see every answer to every question, even answers that were changed, all photos, photo annotations, worker comments, requests and escalations.
Anvl helps you validate important questions about your workforce:  Are they complying with processes and procedures? Do they need assistance? Do they need more training? How are they solving for risks? Are they engaged?
Real-Time Alerts and Notifications
Understand what issues your frontline is facing and engage workers in meaningful conversations with relevant information when they need your help the most.
Anvl's dashboard automatically highlights problems, elevated risks, and stopped jobs from the frontline based on your safety business rules by highlighting the most critical information.
In addition to providing a live feed of data from the frontline, you can set alerts for stopped jobs so that you get emails or texts sent to your mobile device.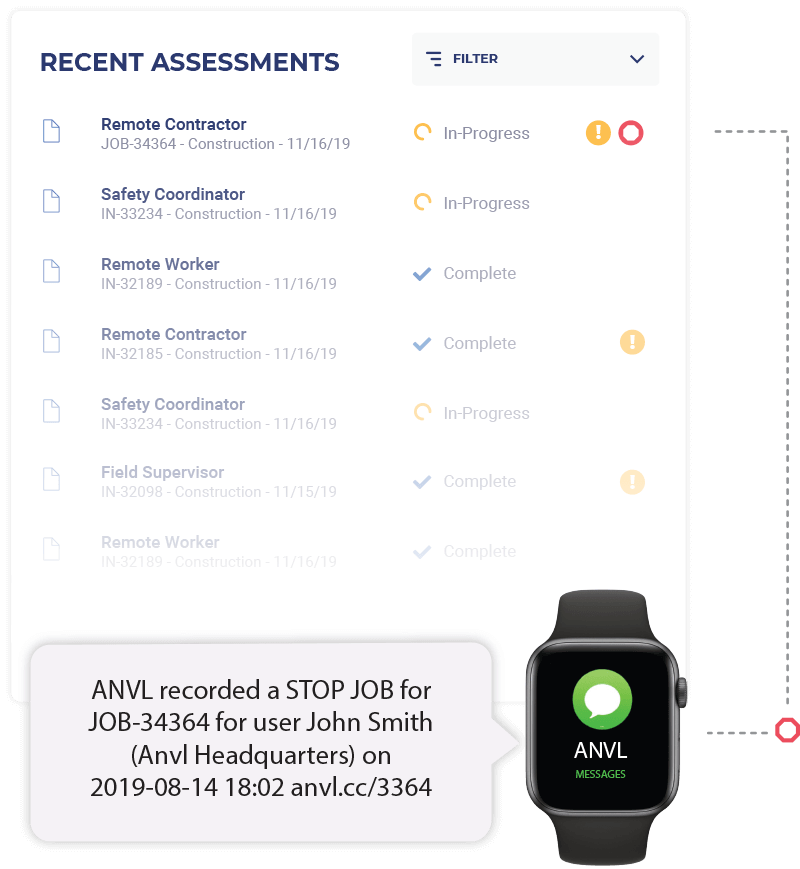 "This product is going to continue to allow us to understand the scenarios our techs are put in and allow our management to adapt and improve our techniques so everyone is doing every job, safely."
– Bob, Branch Supervisor
Built in Compliance Data and Reporting
Access per-user and per-job historical record of all workflows and captured data. With all historical data available, you can develop data-driven action plans and improve operational practices and procedures that promote safety and productivity, building trust between the frontline and management.
Receive a daily recap rolling up the day's activities, user engagement, and quickly identify where you have gaps in compliance.
Leverage real-time information to assess concerns remotely and identify opportunities for positive reinforcement when processes are followed.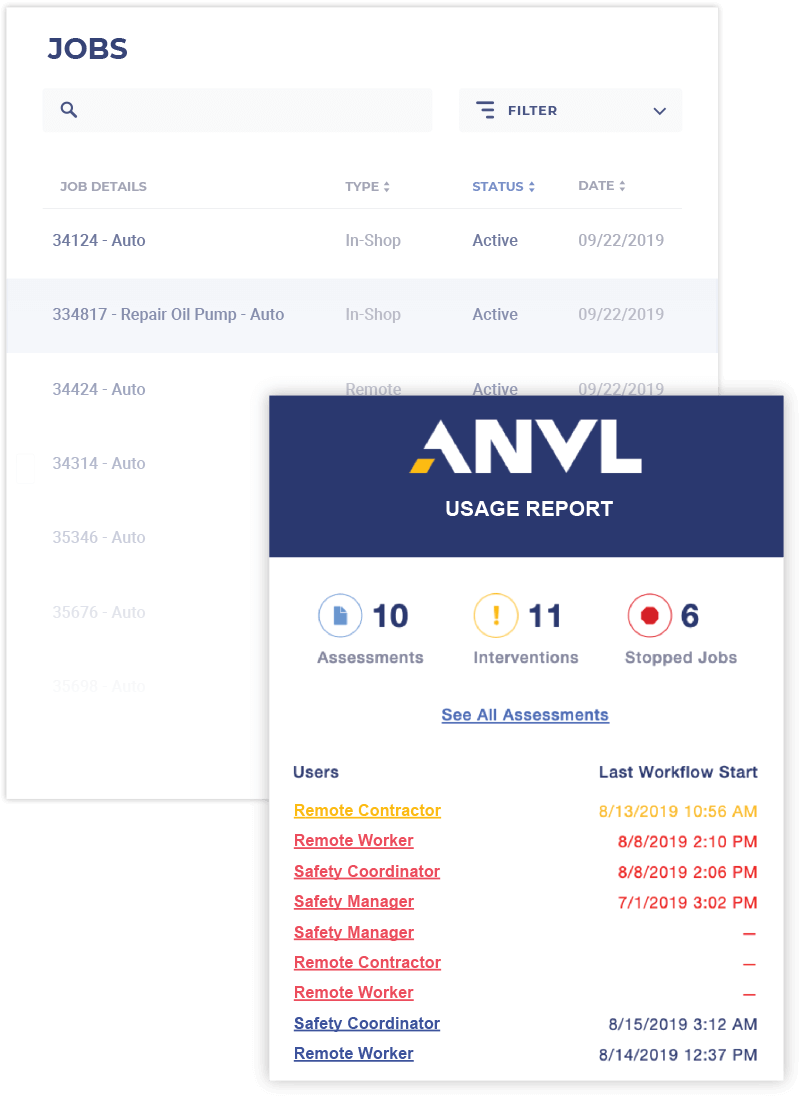 Anvl Professional Services
Our team partners with you to help you deliver the desired business outcomes.
We take on the configuration of your processes in Anvl, working with you to create smart digital workflows designed to engage your workers and supervisors and capture data you need.
The solutions we deploy include assessments, pre-work checklists, observations, audits, inspections, permits, and more. You don't see what you need listed? Contact us!
Identifying the right metrics is critical and we work with you to identify the data, quality measures, and reports that will give you the best insights.
A quick Anvl overview.
Software to automate paperwork and processes,  making it easy to stay connected with workers, distribute the responsibility of safety, and ensure accountability and compliance with processes.