A Call to Leadership
After reading the first article in this series, it is evident that psychological wellbeing is essential to prioritize in any business. But, it may be difficult to find a good place to begin an effort to improve on emphasizing the importance of mental wellness in the workplace. This article serves as an action plan for leadership, and what efforts can be made in order to kickstart this movement toward a holistic safety culture for workers.
How Much Influence does Leadership have on the Psychological Wellbeing of Workers?
In short, a lot more than you would expect. Leadership has a great impact on occupational health and safety. In fact, Frone & Barling (2005) found some significant correlations between leadership views on safety and the psychological impact on their workers. Specifically, employees who "did not believe their management was committed to safety, rated physical working conditions poorly, and had poor attitudes to safety. . .
Had lower levels of satisfaction with safety procedures
Felt unsafe [at work]
Had higher levels of stress and strain than those who held other beliefs and attitudes
Were less likely than others to comply with safety procedures"¹
In addition, Kelloway, Nielsen, & Dimoff (2017) stress that the quality of organizational leadership is positively and empirically linked to outcomes such as "psychological well being [and] organizational safety culture" and negatively linked to outcomes such as "employee stress [and] workplace incidents and injuries."²
On a more hopeful note, though, Frone and Barling (2005) found some more interesting evidence for leadership in order to intervene this mindset and protect their workers. These behaviors are likely to turn to a more positive outlook when employees have high-quality professional relationships with their leadership.¹ And, companies who invest in safety training and safety culture are predicted to have less occupational injuries and higher safety performance overall.¹ There is a real, direct impact that leadership can have on giving employees a space where mental and physical security is guaranteed.
What can Leadership do to Make a Workplace Psychologically Safe?
In general, it is important to note that the way we behave is more often "automatic and shaped by past experience,"³ meaning that risk evaluation is an unconscious effort. This is crucial to consider, as we evaluate how mental wellness can intertwine with risk evaluation. In fact, experiencing stress from work leads to "employees reducing efforts to produce a quality output," and even more critical to consider, an increased likelihood of injury on the job.³ It is not enough to tell workers, "Don't worry, we are here for you" without a proactive effort. It is up to leadership to determine how mental wellness and psychological safety can be conditioned on the job, for the sake of their workers.
Kelloway, Nielsen, & Dimoff (2017) have developed the RIGHT way model in order to help guide leadership to making informed choices on how to make their company a more psychologically safe environment for employees. The model is shown below, as well as recommended questions to help you consider areas your business could adapt: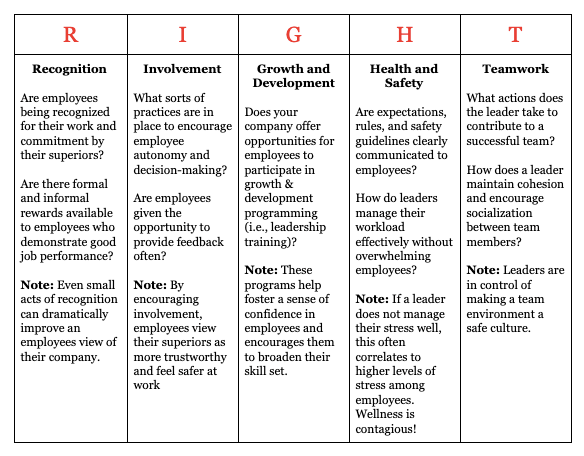 How We Can Help
All of these suggestions help foster a psychologically safe work environment. It is the ideal environment where workers feel valued, accepted, and encouraged to work to their fullest potential. With that, there is an added sense of security and safety that each worker is protected from hazards in the workplace. This is what makes coming into work more positive and productive.
Anvl has safety management software to help your business create a psychologically safe work environment. We empower workers to have a voice in what they want in a safe workplace, and we help foster effective communication between leaders and their workers. We too have a vision to make all workplaces feel as safe as possible. See all that Anvl has to offer to ensure both safety and quality in your workplace.
---
Resources
Frone, M. R., & Barling, J. (2005). The psychology of workplace safety (1st ed (Online-Ausg.). American Psychological Association. http://search.ebscohost.com/direct.asp?db=pzh&jid=200388217&scope=site.
Kelloway, E. K., Nielsen, K., & Dimoff, J. K. (Eds.). (2017). Leading to occupational health and safety : How leadership behaviours impact organizational safety and well-being. Retrieved from https://ebookcentral.proquest.com
Clarke, S., & Cooper, C. (2003). Managing the risk of workplace stress : Health and safety hazards. Retrieved from https://ebookcentral.proquest.com